Essence Type: Individual Flower Essence
Flower Color: yellow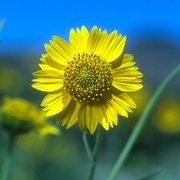 Flower Essence Description
For those with a defeatism attitude, or those who experience the world as unsupportive or hostile, Crownbeard helps us to keep faith and optimism. It helps us to transmute fears of hostility and find purposeful expression.
Harmonizing Qualities
knowing ourselves as worthy of love and abundance
trust that the universe supports us abundantly with what we need
seeing into the future, understanding present conditions, knowing the right actions and directions to take
transmutation of fears of hostility from others
purposeful expressiveness
awareness of the great seriousness of the world situation, and working with it while keeping faith and remaining optimistic
encourages positive interaction and relatedness to the environment and world
enhances our ability to express our needs
for artistic communication and expression of not-very-artistic facts and situations
for relating to people harmoniously
Patterns of Imbalance
alienation
cellular memory of being "burned at the stake"
defeatism, "what's the use" attitude
difficulty in expressing your needs
experiencing the environment or world as unsupportive or even hostile
fatalistic attitude
fear or terror of being tortured for speaking out
insecurity
not saying what you think or need
silence, withdrawal
How to use and related questions
Keywords
Crownbeard is related to the following keywords:
• insecurity • alienation • unsupported • hostility • fatalism • defeatism • withdrawal • communication • fear • terror • love • abundance • trust • support • community • creativity • manifestation • faith • joy • seriousness • optimism • pessimism • cellular memory
Articles
Crownbeard is mentioned in the following core-issue articles:
for releasing old wounds, often from past-lives, that relate to having been persecuted for your beliefs
Harmonizes a fatalistic or defeatist attitude so you know that the universe supports you abundantly with what you need.
awareness of the great seriousness of the world situation leaves you feeling hopeless and dispirited
Kits
Crownbeard is part of the following series or practitioner kits:
This kit contains our full line of 119 individual flower essences, all of which are described in depth in The Alchemy of the Desert – Fourth Edition.
More information
The above information is an excerpt of the book The Alchemy of the Desert - Fourth Edition by Cynthia Athina Kemp Scherer. Please refer to that book for in-depth information about this flower essence.