Welcome to Desert Alchemy Flower Essences
33 years producing quality flower essences from the unique plants of the Arizona deserts

Upcoming Workshops & Presentations
April 24 to May 3, 2017
Flower Essence Therapy Course 2017 – Parts 1 and 2
A Eight-Day Flower Essence Workshop
with Cynthia Athina Kemp Scherer
Tucson, Arizona
[ More information / Register ]
April 24 to 28, 2017
Flower Essence Therapy Course 2017 – Part 1
A Five-Day Flower Essence Workshop
with Cynthia Athina Kemp Scherer
Tucson, Arizona
[ More information / Register ]
May 1 to 3, 2017
Flower Essence Therapy Course 2017 – Part 2
A 3-Day Flower Essence Workshop
with Cynthia Athina Kemp Scherer
Tucson, Arizona
[ More information / Register ]
If you want to be notified as soon as new workshops are scheduled, please subscribe to our Email Updates:
Latest News & Updates
New Book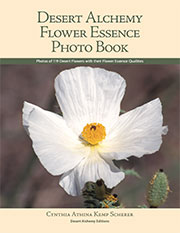 We are happy to announce the release of Cynthia's latest book, the Desert Alchemy Flower Essence Photo Book.
New Article
The Core Issue: Sleep
When we sleep, our body and mind are regenerated and we wake feeling refreshed. During sleep, we also release unconscious concerns through the dream state. Yet there are times when sleep can be a challenge. During great life transitions, when we are engaged in exciting events, when worry predominates, or at other times when the cause is elusive, falling asleep can be difficult.[ View ]
About Us
We produce quality flower essences from the unique plants of the Arizona deserts, and make them available to holistic health practitioners and self-help users.
As pioneers of desert flower essences, our extensive research began in 1983 and continues today. Our publications are dedicated to sharing this research with others.
We provide flower essence therapy courses to health practitioners and individuals who wish to add flower essences to their repertory of healing tools.
We offer private flower essence consultations to individuals interested in using flower essences for emotional support, attitudinal changes, and self-awareness.
[more about us]
Information in other languages