Welcome to Desert Alchemy Flower Essences
37 years producing quality flower essences from the unique plants of the Arizona deserts
Open Notice
We are shipping online orders. Our business complies with our state regulations for safe functioning during the COVID-19 pandemic.
We are following strict hygiene and cleaning practices and physical distancing guidelines.
Cynthia continues to offer consultations via telephone, FaceTime, and Skype.
Consultations can be scheduled online here.

Upcoming Workshops & Presentations
If you want to be notified as soon as new workshops are scheduled, please subscribe to our Email Updates:
Latest News
Flower Essence of the Year 2021
Cynthia has attuned with the desert devas to find a universally applicable flower essence to support us in evolving in consciousness with the events and opportunities of 2021. The essence that was indicated is Fire Prickly Pear Cactus.
January Special
Free bottle* of the Fire Prickly Pear Cactus Flower Essence when you place an order for 4 or more flower essences during the month of January 2021.
* 1 free bottle per customer
New Article
Timely Flower Essences is a list of the flower essences mentioned in our recent newsletters that address issues many of us are experiencing during these times of accelerated inner growth and adjustment to a profoundly changed world.
New Updated Book!
"The Alchemy of the Desert" is the foundation for understanding and using desert flower essences. Originally published in 1997, we are now releasing an updated Fourth Edition.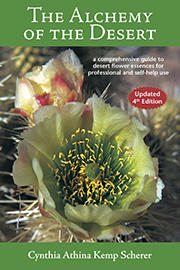 About Us
We produce quality flower essences from the unique plants of the Arizona deserts, and make them available to holistic health practitioners and self-help users.
As pioneers of desert flower essences, our extensive research began in 1983 and continues today. Our publications are dedicated to sharing this research with others.
We provide flower essence therapy courses to health practitioners and individuals who wish to add flower essences to their repertory of healing tools.
We offer private flower essence consultations to individuals interested in using flower essences for emotional support, attitudinal changes, and self-awareness.
[more about us]
Information in other languages