39 years producing quality flower essences from the unique plants of the Arizona deserts

Upcoming Workshops & Presentations
The FLOWER ESSENCE THERAPY COURSE 2023
We are happy to announce that the Desert Alchemy Flower Essence Therapy Course 2023 will take place online from March 16 to June 29, on Thursdays from 3 PM to 6 PM Arizona Time (GMT-7).
If you want to be notified as soon as new workshops are scheduled, please subscribe to our Email Updates:
Latest News
New Book!
This books describes in detail each of the five elements and discuss how you can use the corresponding Desert Alchemy® element formulas to create harmony and a sense of well-being.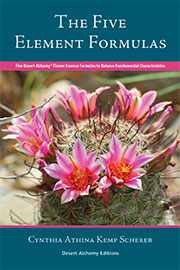 The Expanded Cross Reference is back!
The Desert Alchemy Expanded Cross Reference is back in stock. Not just a list of flower essences, each entry has been carefully culled to give you an easy-to-use reference guide for selecting flower essences. Look up a state of being and the entry shows the fine differences between the recommended flower essences so you can pinpoint the precise one for your need.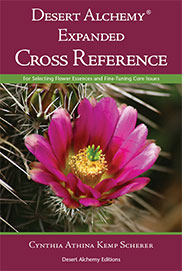 About Us
We produce quality flower essences from the unique plants of the Arizona deserts, and make them available to holistic health practitioners and self-help users.
As pioneers of desert flower essences, our extensive research began in 1983 and continues today. Our publications are dedicated to sharing this research with others.
We provide flower essence therapy courses to health practitioners and individuals who wish to add flower essences to their repertory of healing tools.
We offer private flower essence consultations to individuals interested in using flower essences for emotional support, attitudinal changes, and self-awareness.
[more about us]
Information in other languages