Essence Type: Individual Flower Essence
Flower Color: yellowish-white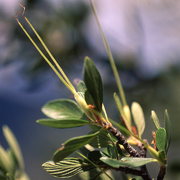 Flower Essence Description
Mountain Mahogany provides a gentle but firm push toward our next stage of development. Helpful when we become complacent.
Harmonizing Qualities
being directed from within by the sacred, not the ego
a gentle but firm push to move onward to the next level of inner development
surrendering to universal timing while moving forward
Patterns of Imbalance
pushing and trying to make things happen
believing that expression of our "masculine" qualities means aggression
being stuck or complacent at a certain plateau in your development
How to use and related questions
Keywords
Mountain Mahogany is related to the following keywords:
• capability • aggression • assertive • challenge • connection • direction • efforting • ego • father • manifestation • masculine • motivation • procrastination • pushing • risking • self-judgment • spontaneity • stuck • surrender • timing • will • work • abilities • career • inertia • ambition • competition • laziness • sluggish • pride • complacency • adolescence • self-assertive • action • destructive • stimulating • unmotivated • violence • moving ahead • personal will • trying to
Articles
Mountain Mahogany is mentioned in the following core-issue articles:
comfortable being at home and reluctant to go to school
Feeling stuck, unmotivated, unable to move ahead and attempt to manifest what you want
For pets that are too agressive.
The desire to stay with what is comfortable and familiar is at the root of the procrastination.
Kits
Mountain Mahogany is part of the following series or practitioner kits:
This kit contains our full line of 119 individual flower essences, all of which are described in depth in The Alchemy of the Desert – Fourth Edition.