Essence Type: Individual Flower Essence
Flower Color: white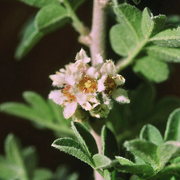 Flower Essence Description
Desert Sumac helps us transform the pain of loneliness and separation by seeing beyond the superficial differences in people. It is for those who feel they are on the outside looking in in social relationships.
Harmonizing Qualities
helps heal the pain of separation and loneliness through awakening your ability to perceive the beauty in life and in people
seeing beyond the superficial differences among people to contact that "soul level" wherein your essential humanity and oneness with life is experienced
helpful in any context where there is an intention to deepen the attunement and connection between yourself and another
expands and opens the personality to radiate and receive human warmth and affection
evokes an attitude of thankfulness and joy in being alive
helps when you are perceiving others in a negative light by changing that perspective to viewing others from your unconditionally loving heart
breaks down useless old walls that once protected but now wall you in
knowing that "so little is so much"
blooming in even the most desolate of times
prosperity, abundance
Patterns of Imbalance
loneliness, isolation, separation
feeling disconnected from people and the world
a sense of being on the outside looking in in your social relationships
contraction and withdrawal into yourself
unsociability
feeling a lack of abundance
shame
How to use and related questions
Keywords
Desert Sumac is related to the following keywords:
• abundance • affection • beauty • differences • disconnected • humanity • isolation • lack • loneliness • joy • negative • prosperity • separateness • shame • social • superficial • thankfulness • relationship • unsociability • warm • withdrawal • empathy • cynicism • appreciative • participate • remote • unconditional love
Articles
Desert Sumac is mentioned in the following core-issue articles:
feel lonely and cut off from others
Helps you see beyond the superficial differences between people to connect with the heart essence
a sense of being "on the outside looking in" in your social relationships; unsociable
For pets that were abused or mal-treated, this essence helps them build trust and a sense of connection to people.
a sense of being "on the outside looking in" in your social relationships
isolating yourself from family and friends
Kits
Desert Sumac is part of the following series or practitioner kits:
This kit contains our full line of 119 individual flower essences, all of which are described in depth in The Alchemy of the Desert – Fourth Edition.
More information
The above information is an excerpt of the book The Alchemy of the Desert - Fourth Edition by Cynthia Athina Kemp Scherer. Please refer to that book for in-depth information about this flower essence.