Essence Type: Individual Flower Essence
Flower Color: magenta/pink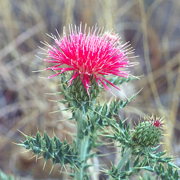 Flower Essence Description
For those who experience a lack of trust or faith in their spiritual connection, Thistle helps us let down our defensiveness and recognize grace in our lives.
Harmonizing Qualities
making and honoring your own boundaries through accessing deep inner faith
feeling connected to people and spirit simultaneously
gentle strength
fosters deep faith and trust in spirit
heart-centered
knowing that it is alright to withdraw at times when it is necessary
self-forgiveness
enhances a sense of respect for who you are and what you need
connecting strongly and surely to spirit
clarity and focus especially to the spiritual realm
Patterns of Imbalance
keeping others at a distance
being defensive
being stuck inside your defenses
being over-protective
disconnected from others; distrust in spirit
feeling guilty for withdrawing in order to take care of yourself
lack of trust or faith in your spiritual connection
How to use and related questions
Keywords
Thistle is related to the following keywords:
• alienation • clarity • defensive • distant • distrust • faith • gentle • guilt • heart • relationship • self-nurturance • stuck • trust • withdrawal • forgiveness • realign • Higher Power • spiritual connection • spiritual wholeness
Articles
Thistle is mentioned in the following core-issue articles:
As we shed the defensive armor that resulted from past dysfunctional relationships, we find ways to interact appropriately with others, and we learn to trust our spiritual connection. Forgiveness and understanding are the natural result. This essence can help us clarify our intention to forgive and then support us in accepting the process necessary to receive the grace of forgiveness.
Kits
Thistle is part of the following series or practitioner kits:
This kit contains our full line of 119 individual flower essences, all of which are described in depth in The Alchemy of the Desert – Fourth Edition.