Essence Type: Individual Flower Essence
Flower Color: purple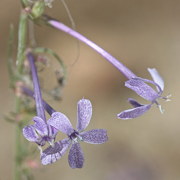 Flower Essence Description
For all types of fears that paralyze us, this is the essence of choice. Also for resolving the frustration of our limitations and the paradoxical fear of living without our limitations.
Harmonizing Qualities
penetration into and through anything fear related
moving beyond the concept of limitations
accessing the courage to be able to face your fears directly
able to be comfortable in the "limbo" state when the old sense of self has dissolved and the new you is not yet born
Patterns of Imbalance
fear that you may never emerge from a limiting situation
fear that you may emerge from your limitations
feeling entranced by your fears
fear that results when you no longer have the security of your previous sense of self
How to use and related questions
Keywords
Thurber's Gilia is related to the following keywords:
• courage • empowerment • fear • identity • limitation • security
Articles
Thurber's Gilia is mentioned in the following core-issue articles:
fear: paralyzed by their fears
wet the bed (with Inmortal and Scorpion Weed)
afraid of the dark (with Scorpion Weed)
inability to see possibility; entrapped in limitations your mind has created that keep you from seeing possibility; fear of making a decision
Supports you in resolving limitation-based fears: that you might not emerge from a limiting situation; that you will emerge from a limiting situation; of your identity being threatened; that keeps you frozen in inaction.
fear of letting go of limitations
For fear, especially the kind that paralyzes or freezes an animal in inaction.
any type of fear (use together Scorpion Weed); fears that keep you frozen or inactive and unable to help yourself
Kits
Thurber's Gilia is part of the following series or practitioner kits:
This kit contains our full line of 119 individual flower essences, all of which are described in depth in The Alchemy of the Desert – Fourth Edition.