Essence Type: Individual Flower Essence
Flower Color: white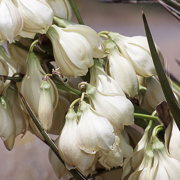 Flower Essence Description
An excellent essence to help us when we experience indecisiveness, hesitation or fear in facing challenges. It provokes a unification of our will with our intention.
Harmonizing Qualities
unity of courage, intention and will
summoning of the will
one-pointedness
letting distractions, hesitations or fears fall away so that you have a resolute clarity of intention, especially in regard to a particular goal or challenge
cutting through
steadfastness
Patterns of Imbalance
fear in facing a challenge or a crossroads
feeling that you may not be able to achieve your goal or purpose
indecisiveness about your path
How to use and related questions
Keywords
Spanish Bayonet Yucca is related to the following keywords:
• assertive • challenge • confidence • courage • crossroads • despair • direction • fear • goals • helpless • inability • indecisive • intention • one-pointed • procrastination • steadfast • union • will • career • decisions • determination • discernment • efforting • masculine • purpose • adolescence • steadiness • perseverance • giving up • moving ahead • personal will
Articles
Spanish Bayonet Yucca is mentioned in the following core-issue articles:
afraid in facing a challenge
afraid to face a challenge
The cause of the procrastination is fear or an inability to summon our will.
Kits
Spanish Bayonet Yucca is part of the following series or practitioner kits:
This kit contains our full line of 119 individual flower essences, all of which are described in depth in The Alchemy of the Desert – Fourth Edition.