Essence Type: Individual Flower Essence
Flower Color: pink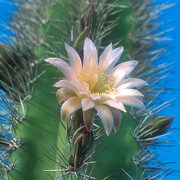 Flower Essence Description
The grandparent's perspective opens the flow of emotion without pain, without bitterness from the past or expectations for the future. Senita helps us access from within us a soft, sweet support for letting go of old perspectives that keep us locked into unsettled emotions.
Harmonizing Qualities
brings a grander perspective and centeredness in relation to our emotions
fosters the faith to let go of old perspectives that keep us locked into unsettled emotions
self-grand parenting
helps us access great faith, softness and strength
supports aging gracefully
helps us embrace our positions as elders
supports healing old regrets
Patterns of Imbalance
bitterness about past or future events
clinging to painful, old emotional hurts and wounds
old perspectives that keep unresolved hurts alive
lack of faith
unresolved regrets
How to use and related questions
Keywords
Senita Cactus is related to the following keywords:
• bitterness • centered • faith • gentle • grandparent • perspective • release • self-nurturance • forgiveness • aging • old • regret • guilt • emotional expression • let go
Articles
Senita Cactus is mentioned in the following core-issue articles:
letting go of old ideas about aging; healing unresolved regrets; appreciation for the wisdom that age brings
The "emotional iodine" that takes the sting out of old hurts and helps us see that the perception we have of past events may be keeping us locked into old emotional wounds.
Kits
Senita Cactus is part of the following series or practitioner kits:
This kit contains our full line of 119 individual flower essences, all of which are described in depth in The Alchemy of the Desert – Fourth Edition.