Essence Type: Individual Flower Essence
Flower Color: yellow/white/orange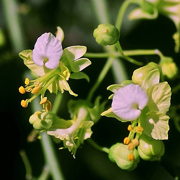 Flower Essence Description
An essence of choice for those of us who are judgmental of ourselves or others, Foothills Paloverde supports us in quieting our minds and finding perfection within ourselves, just as we are. It is also helpful if we feel at the mercy of our emotions.
Harmonizing Qualities
sharpens the ability to relate to and accept our own feelings and share them with others
brings the mind to a quieter space stilling the ego self-image and helping us be in touch with our real inner perfection
self-acceptance and self-encouragement
refinement of creative expression
brings an inner stillness like the moment before dawn
Patterns of Imbalance
self-judgment
critical of yourself or others
fear of being at the mercy of your emotional expression
animus attack
alienating yourself because of feeling a lack of a firm basis for being
deep inner shame and/or self-blame
How to use and related questions
Keywords
Foothills Paloverde is related to the following keywords:
• acceptance • alienation • self-anger • animus • complain • creativity • critical • ego • encouragement • fear • flexibility • freedom • gentle • head • judgmental • brain • mind • negative • patterns • open-minded • peace • perfectionism • pessimism • self-acceptance • self-blame • self-criticism • self-judgment • seriousness • should • struggle • shame • anger • limitation • non-attachment • optimism • cynicism • self-destructive • harmless • listening • prejudice
Articles
Foothills Paloverde is mentioned in the following core-issue articles:
critical of yourself or others
critical of yourself or others; self-judgment
Perfectionism is at the root of procrastination.
Kits
Foothills Paloverde is part of the following series or practitioner kits:
This kit contains our full line of 119 individual flower essences, all of which are described in depth in The Alchemy of the Desert – Fourth Edition.