Essence Type: Individual Flower Essence
Flower Color: lavender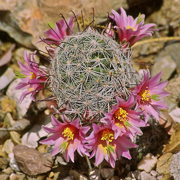 Flower Essence Description
Fishhook Cactus is for those who hide behind non-communication. It is especially indicated for the fear of risking in communication. It supports us with confidence in public speaking, intimate relationships or for speaking foreign languages.
Harmonizing Qualities
realization that there is only something to be gained and not lost through communication.
trusting and risking in communication
harmonizes the attitude behind defensiveness
Patterns of Imbalance
uncommunicative
closed-mouthed
refusal to discuss or negotiate an issue for fear of losing face or risking your position
reluctance to communicate
feeling that communication would be losing, or giving up something
a tendency to be defensive
How to use and related questions
Keywords
Fishhook Cactus is related to the following keywords:
• inarticulate • avoidance • communication • defensive • direct • expressing • hiding • intimacy • losing • reluctance • risking • self-expression • sharing • trust • uncommunicative • unexpressed • articulate • fear • adolescence • humor • public • self-consciousness • talkative • withholding • emotional expression • held in • holding back
Articles
Fishhook Cactus is mentioned in the following core-issue articles:
fear of speaking and saying what they really want
avoiding communication with someone, especially because you fear that you will lose their love or respect
Having difficulty making a boundary because you are afraid to say what you think or need
who are afraid of speaking up
For all issues around communication, it helps you accept the risks of communication with others
reluctance to communicate; refusal to discuss or negotiate an issue for fear of losing face or risking your position
for all issues around difficulty with communication; fear of risking by communicating
Kits
Fishhook Cactus is part of the following series or practitioner kits:
This kit contains our full line of 119 individual flower essences, all of which are described in depth in The Alchemy of the Desert – Fourth Edition.

This kit is a set of 30 selected Desert Alchemy® flower essences that form an integral part of the healing program pioneered by Richard Utt, founder of the original International Institute of Applied Physiology in Tucson, Arizona.