Essence Type: Individual Flower Essence
Flower Color: pink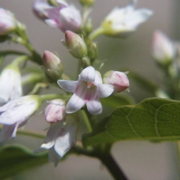 Flower Essence Description
Dogbane helps us to access the courage to follow our rebellious instincts, what is an important part of growth and change. It is for the fear that our rebellion will hurt or damage others, and the fear that we cannot take care of ourselves if we leave home. This is the essence to support self-confidence.
Harmonizing Qualities
accessing the courage to follow your rebellious instincts
accessing the courage to leave home
letting yourself shine without being worried about how others respond to you
excellent if you repressed your instincts to rebel as a teenager
overcoming the fear of hurting others when that fear is based upon codependency
Patterns of Imbalance
denying your natural radiance or gifted self
desire to leave home but fear that others will not be able to get along without you
fear of not being able to care for yourself if you leave home
fear of rebelling, especially from your parents or family
fear that your rebellion will hurt, or in some way damage, your family or loved ones
How to use and related questions
Keywords
Dogbane is related to the following keywords:
• adolescence • independence • rebellion • uniqueness • adjustment • boundaries • freedom • codependency • responsible • relationship • overprotective • fear
Articles
Dogbane is mentioned in the following core-issue articles:
need to rebel but are afraid to
Codependent fear of hurting others if you follow your own path; fear of rebelling
Kits
Dogbane is part of the following series or practitioner kits:
This kit contains our full line of 119 individual flower essences, all of which are described in depth in The Alchemy of the Desert – Fourth Edition.
More information
The above information is an excerpt of the book The Alchemy of the Desert - Fourth Edition by Cynthia Athina Kemp Scherer. Please refer to that book for in-depth information about this flower essence.