Essence Type: Individual Flower Essence
Flower Color: green/yellow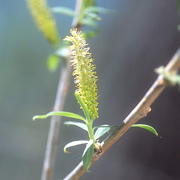 Flower Essence Description
Restoring a consciousness of personal will, Arroyo Willow helps us responsibly create our life experiences while remaining flexibly true to ourselves.
Harmonizing Qualities
acknowledging your responsibility for the situations in your life
creating the most positive reality possible
owning creative power of thought
being strong but not rigid
not letting your energy be side-tracked by others or distractions
clearing away what is unnecessary
taking responsibility
being true to Self
antidote for feeling the victim
letting go of rigidity and surrendering to a more flexible outlook
sensing our umbilical cord to the universe
restores a consciousness of will
facilitates a perceptual shift
Patterns of Imbalance
being easily sidetracked by distractions or others
creating a negative reality, and then blaming outside forces
feeling bitterness or resentment for what life has done to you
feeling fragmented, inwardly scattered
rigid and needing to control
bitterness; resentment of self, others, or God
feeling locked into something uncomfortable
How to use and related questions
Keywords
Arroyo Willow is related to the following keywords:
• bitterness • blame • control • creativity • distracted • flexibility • mind • others • perception • relationship • release • resentment • responsible • rigidity • scattered • surrender • victim • will • spiritual connection
Articles
Arroyo Willow is mentioned in the following core-issue articles:
For feelings on bitterness and resentment, feeling a victim and unable to have what you want
rigid and needing to control
feeling bitterness or resentment for what life has done to you
Kits
Arroyo Willow is part of the following series or practitioner kits:
This kit contains our full line of 119 individual flower essences, all of which are described in depth in The Alchemy of the Desert – Fourth Edition.
More information
The above information is an excerpt of the book The Alchemy of the Desert - Fourth Edition by Cynthia Athina Kemp Scherer. Please refer to that book for in-depth information about this flower essence.