Essence Type: Individual Flower Essence
Flower Color: pale yellow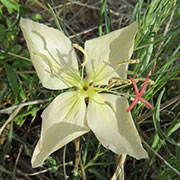 Flower Essence Description
An excellent essence for those of us with a poor self image, Star Primrose is helpful if we blame our negative feelings on an outside source while simultaneously denying such feelings exist. It is also for those of us who are confused about sexuality and spirituality, or who repress sensuality and put energy into occult, mystical or mental pursuits.
Harmonizing Qualities
purity
clarity of purpose
knowing your inherent beauty
loosening, relaxing, feeling joy and beauty in yourself
feeling a sense of belonging and gentle sharing
experiencing a great sense of inner worth and self-esteem
recognition that your negative outer circumstances are reflecting your own inner negativity
transforming emotional negativity through the understanding that you have a freedom of emotional response which is not dictated by outer conditions
Patterns of Imbalance
confusion about spirituality-sexuality
self-consciousness
self-judgment
repressing femininity and sensuality and putting energy into occult, mystical, or mental pursuits instead
denial of the body
awkwardness
incompleteness in trying to express yourself
trying to be a spiritual receiver but denial of body and sexuality blocks it
feeling angry or resentful, but blaming your negativity on some external source
feeling emotionally controlled by another person or situation
brooding on your negative feelings, often while disclaiming outwardly that they even exist
How to use and related questions
Keywords
Star Primrose is related to the following keywords:
• anger• awkwardness• beauty• belonging• clarity• comfort• confusion• control• denial• empowerment• external• feminine• incomplete• inner-outer• joy• negativity• paranoia• projection• purpose• repression• resentment• self-blame• self-consciousness• self-esteem• sensitive• sensuality• sexuality• sharing• spirituality• victim• blame• child• desires• reluctance• adolescence• relationship• unexpressed• body• complain• mind
Articles
Star Primrose is mentioned in the following core-issue articles:
feel angry or resentful and blame others for it
self-consciousness and awkwardness that results in repressing femininity and sensuality
feel angry or resentful and blame others for it
feeling emotionally controlled by others and resenting it
self-consciousness with your sexuality; self-judgement of your physical appearance
For oversensitivity to others' emotions. If you feel emotionally controlled by another person or situation, this essence supports the understanding that you have a freedom of emotional response that is not dictated by outer conditions.
anxiousness accompanied by thoughts of impending challenges and difficulties (use together with Crisis - Desert Emergency Formula); expecting things to go wrong and be difficult
Kits
Star Primrose is part of the following series or practitioner kits:
This kit contains our full line of 119 individual flower essences, all of which are described in depth in The Alchemy of the Desert – Second Edition.

This kit includes the 41 individual essences not included in the Flower Card Kit. It is for those who previously purchased the Flower Cards Kit and want to upgrade it to the Individual Essences Kit.