Essence Type: Individual Flower Essence
Flower Color: magenta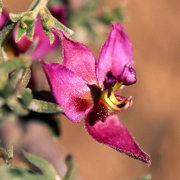 Flower Essence Description
If we are pulled between two choices, Ratany enables us to recognize, follow and communicate the truth in our hearts.
Harmonizing Qualities
ability to recognize and communicate the truth in one's heart
trust and confidence to follow one's own truth
resolution of emotional conflict, especially resulting from a difficult decision or choice
inner joy
strength for selfless giving to other people
Patterns of Imbalance
conflict of issues of the heart or of love
pulled between two choices
inability to know or express the heart's desire or truth
self-importance, martyrdom, energy closed into the self
How to use and related questions
Keywords
Ratany is related to the following keywords:
• choices • communication • complexity • conflict • crossroads • decisions • heart • head • martyrdom • polarity • resolution • self-importance • selfless • truth • doubt • indecisive • separation • ambiguity
Articles
Ratany is mentioned in the following core-issue articles:
your rational decision-making process does not include valuable feedback from your heart and feeling nature
Kits
Ratany is part of the following series or practitioner kits:
This kit contains our full line of 119 individual flower essences, all of which are described in depth in The Alchemy of the Desert – Fourth Edition.

This kit is a set of 30 selected Desert Alchemy® flower essences that form an integral part of the healing program pioneered by Richard Utt, founder of the original International Institute of Applied Physiology in Tucson, Arizona.