Essence Type: Individual Flower Essence
Flower Color: white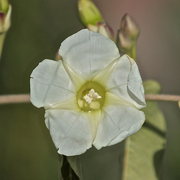 Flower Essence Description
This essence is excellent for becoming conscious of issues of ancestral addictions. It facilitates a conscious chance to change patterns that may be latent or active from our families of origin.
Harmonizing Qualities
changing from obsessive focus to relaxed, total being awareness
changing to a new perspective or mode
recognizing your ancestral patterning, especially in relation to addictions
separating your own thoughts from inherited ones
detachment from enmeshment with other's patterns
helps in initiating a journey into one's ancestral past
Patterns of Imbalance
being consciously or subconsciously obsessed with an ancestral addiction
tending toward some ancestral addiction, even if not yet actively involved
strongly influenced or controlled by ancestral patterns
How to use and related questions
Keywords
Morning Glory Tree is related to the following keywords:
• addiction • ancestral • conscious • control • cultural • enmeshment • family • inherit • mind • obsession • past • parents • patterns • relaxing • subconscious • unconsciousness • non-attachment • release
Kits
Morning Glory Tree is part of the following series or practitioner kits:
This kit contains our full line of 119 individual flower essences, all of which are described in depth in The Alchemy of the Desert – Fourth Edition.