Essence Type: Individual Flower Essence
Flower Color: pink/yellow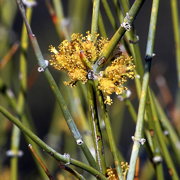 Flower Essence Description
Activates our will and our innate healing resources, bringing directedness, vision and determination. Through confidence in our self-healing abilities, we learn to escape potentially damaging situations.
Harmonizing Qualities
trust in your ability to heal yourself and move beyond a seemingly immobilizing situation
in touch with your ability to project yourself out of damaging entanglement or a negative state
activation of your will and innate resources
optimistic directedness
vision
determination and confidence
transforming an existing trauma or upset into one of calm and peaceful healing
Patterns of Imbalance
stuck in a negative or defeatist attitude in a trauma or damaging entanglement
emotional pain
scattered
confused
frozen will
blaming or self-incriminating
unable to see beyond the present turmoil
How to use and related questions
Keywords
Desert Jointfir is related to the following keywords:
• capability • assertive • confidence • confusion • danger • defeatism • determination • enmeshment • faith • helpless • source • negativity • scattered • self-blame • self-healing • turmoil • trauma • vision • will • pain • depression • inertia • healing crisis • will to heal
Articles
Desert Jointfir is mentioned in the following core-issue articles:
inability to activate your self-healing capacity; knowing you need to help yourself but unable to help yourself
a universally applicable flower essence for all of us that can harmonize our human experience in 2018
Kits
Desert Jointfir is part of the following series or practitioner kits:
This kit contains our full line of 119 individual flower essences, all of which are described in depth in The Alchemy of the Desert – Fourth Edition.

This kit is a set of 30 selected Desert Alchemy® flower essences that form an integral part of the healing program pioneered by Richard Utt, founder of the original International Institute of Applied Physiology in Tucson, Arizona.
More information
The above information is an excerpt of the book The Alchemy of the Desert - Fourth Edition by Cynthia Athina Kemp Scherer. Please refer to that book for in-depth information about this flower essence.