Cynthia has once again attuned with the desert devas to find a universally applicable flower essence to support us in evolving in consciousness with the events and opportunities of this new year. The essence that was indicated is Desert Jointfir.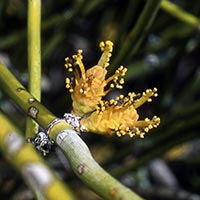 One of the things that struck me about Desert Jointfir as it relates to our present times is its ability to help you find a calming and transformative energy with which to respond to today's situations. It can help change an existing upset into a peaceful and healing experience. When we face difficulties that seem too much for you to deal with, when you feel frozen in inaction, Desert Jointfir helps you activate your will and garner your inner healing resources to take the action that is most beneficial for yourself.
If you find yourself entangled in in a situation or relationship that you cannot seem to pull yourself out of, even when you know that it is the best thing to do, this flower essence sparks an inner impetus to move out of it.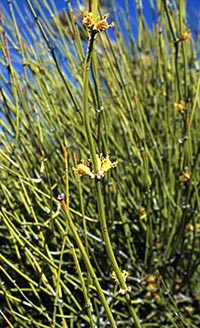 When we have a negative or defeatist attitude towards our health, Desert Jointfir can help us move into an optimistic view of our situation that is based upon our real ability to transform and heal. We develop confidence in our ability to move out of out of emotional pain or immobility.
Healing ourselves is an inside job. This is an essence to use for those who can't quite believe that they can heal. When we activate our own self-healing capacity, we attract all the outer support we need.
Desert Jointfir helps move you from a defeatist attitude into an optimistic view of your situation and yourself. Healing yourself is an inside job, and this flower essence can get you going. This flower essence brings us the sense that "I can do it myself. I can start with what I have inside me."
List of the Flower Essences Mentioned in this Article
a universally applicable flower essence for all of us that can harmonize our human experience in 2018