Essence Type: Individual Flower Essence
Flower Color: yellow/green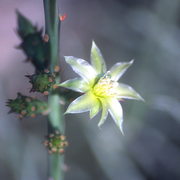 Flower Essence Description
This cholla cactus helps us communicate our limits with humor and ease, especially if we get caught up in other people's needs or expectations. It is wonderful support when we have too many demands upon us and feel overextended.
Harmonizing Qualities
caring through separateness
able to react with humor and lightness to differences
approaching life with loving relaxed attention
softening through caring when you have been hardened by pressures or great stress
feeling and accepting abundance
self-acceptance
experiencing that others are truly cared for when you care for yourself
Patterns of Imbalance
experiencing expectation, obligation, and/or preoccupation with details that keeps you from a caring, open-hearted contact with others
fear that someone or something will make things difficult for you
feeling controlled by other's expectations and needs
feeling like you are doing battle with life and people
experiencing enmeshment with others
inability to separate yourself from another
How to use and related questions
Keywords
Desert Christmas Cholla Cactus is related to the following keywords:
• battle • boundaries • caring • control • details • enmeshment • expectation • fear • lightening • needs • obligated • self-acceptance • separateness • stress • resistance • parasite • oppression
Articles
Desert Christmas Cholla Cactus is mentioned in the following core-issue articles:
Being caught up in other people's expectations or needs, then resenting them
feeling controlled by others' expectations and needs; feeling obligated to do something without ascertaining whether you really want to do it.
a false sense of connectedness and an inability to have healthy separateness keeps you from a true open-hearted connection with others
Kits
Desert Christmas Cholla Cactus is part of the following series or practitioner kits:
This kit contains our full line of 119 individual flower essences, all of which are described in depth in The Alchemy of the Desert – Fourth Edition.
More information
The above information is an excerpt of the book The Alchemy of the Desert - Fourth Edition by Cynthia Athina Kemp Scherer. Please refer to that book for in-depth information about this flower essence.