2-hour online workshop
with Cynthia Athina Kemp Scherer
Have you ever wanted to do something different in your life, but when you attempt to move ahead you feel stuck? Or have you wanted to change something, like a relationship, a job, or a pastime, but you just can't do it?
In this 2-hour workshop Cynthia will explore different types of fears that hold you back and the flower essences that can free you from the grip of limiting fears.
Fear is perhaps the most powerful emotion we experience because it is linked to our survival instinct. But there are two main types of fear, one that can keep us safe and one that can keep us in a self-made prison.

The Essence of Self-Empowerment, page 53
Facilitator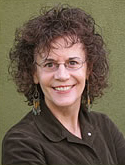 Cynthia Athina Kemp Scherer is the founder of Desert Alchemy Flower Essences. Seeking healing for herself in the early 1980's, Cynthia was guided to begin making flower essences from the unique environment of the Arizona deserts. She is an experienced flower essence practitioner, researcher, and educator. She has authored four books on flower essences and is an international workshop facilitator.
Place
This workshop will be conducted via Zoom. You will need to download the free Zoom app from https://zoom.us for the device that you will use, which can be a computer, a tablet or a smartphone.
Date and Time
Registration
Cost: $40
Duration: 2 hours
Please note that this is a live event and that a recording will NOT be available if you are unable to attend the event.
Refund Policy
There are no refunds for missed workshops or workshops cancelled with less than 24 hours advance notice.