For Selecting Flower Essences and Fine-Tuning Core Issues
by Cynthia Athina Kemp Scherer
"So many flower essences, which one should I use?" Sound familiar? With this book you can easily look up different states of being and find the flower essences that support or harmonize them. This book is based on thirty years of experience with desert flower essences.
Not just a list of flower essences, each entry has been carefully culled to give you an easy-to-use reference guide for selecting flower essences. Look up a state of being and the entry shows the fine differences between the recommended flower essences so you can pinpoint the precise one for your need.
Look up the discomfort or disharmony you are experiencing
Look up a quality you want to enhance
Select flower essences with pinpoint accuracy for yourself, friends, family members, pets and animals
Easily find flower essences to harmonize specific states of being
256 pages
Over 3700 references
About the author
Cynthia Athina Kemp Scherer has been a pioneer in flower essences since 1983. She is the founder of Desert Alchemy, in Tucson, Arizona, USA. She is the co-creator of desert flower essences from the Arizona deserts, an international seminar presenter, and the author of The Alchemy of the Desert, The Art & Technique of Using Flower Essences, and Desert-Alchemy.com.
Sample page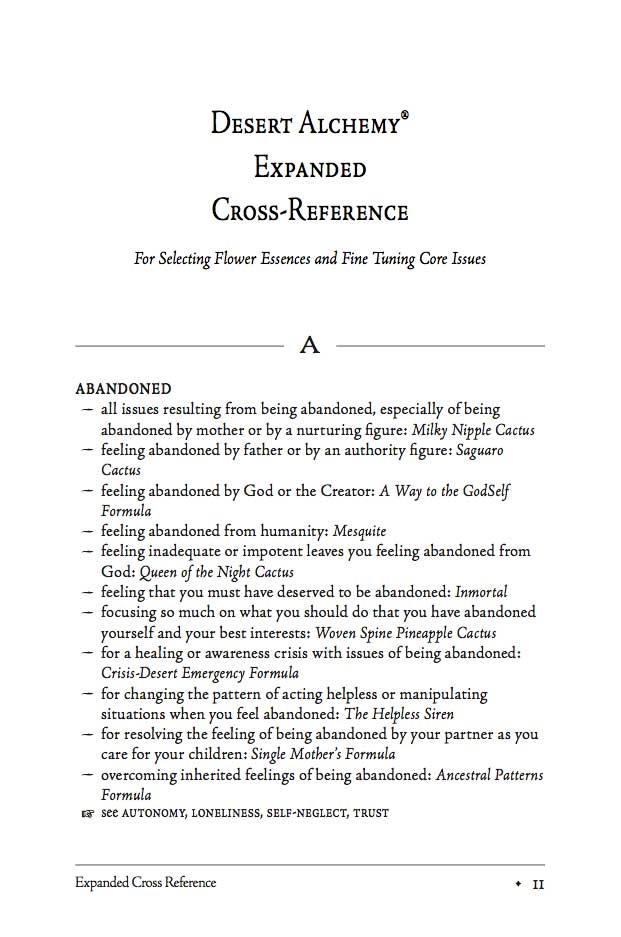 Publication Details
Author: Cynthia Athina Kemp Scherer
ISBN: 9780965990059
Language: English
Format: Print