119 Color Cards for Selecting Flower Essences
by Cynthia Athina Kemp Scherer
A set of 119 cards with exquisite photographs for selecting Desert Alchemy flower essences.
Desert Alchemy Flower Cards are an important aid for using flower essences. Flower cards provide a visual opportunity to experience the flowers used in desert flower essences. They illustrate each flower as it grows in nature.
The flower cards can be used to select appropriate flower essences for yourself and others, or they can be used to illustrate flower essences you have chosen using any other method of selection.
Flower cards can also be used like a tarot deck to help us identify the root, or core, of emotional issues.
Flower Card uses
Self-help in selecting flower essences
Professional use of flower essences
Visual illustration of flower essences described in The Alchemy of the Desert book
As a gift
Each flower card set includes
119 3.5" x 2.5" cards with exquisite photographs of desert flowers
Instructions with three methods for using the flower cards
Box for storing the cards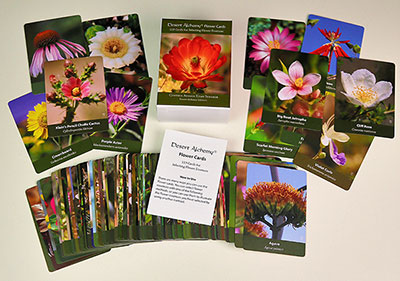 Publication Details
Author: Cynthia Athina Kemp Scherer
ISBN:
Language: English
Format: Print