Essence Type: Individual Flower Essence
Flower Color: red-orange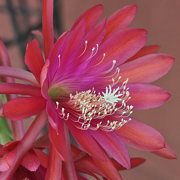 Flower Essence Description
This essence facilitates grounding of Goddess energy into worldly existence. An excellent essence for manifestation.
Harmonizing Qualities
when there is great spiritual energy ready to be anchored into the world, this essence helps the process of manifestation
facilitates grounding of the Goddess energy into worldly existence
being in the world but not of it
excellent for transits or aspects of Neptune
Patterns of Imbalance
being spaced out and ungrounded during times of heightened energetic shifts
floating off into the beautiful, formless realms while ignoring the practical realities
Neptunian transits or strong Neptune aspects (astrology)
How to use and related questions
Keywords
Red-Orange Epiphyllum is related to the following keywords:
• feminine • Goddess • grounded • manifestation • practical • mundane • ungrounded • idealism • ideals
Kits
Red-Orange Epiphyllum is part of the following series or practitioner kits:
This kit contains our full line of 119 individual flower essences, all of which are described in depth in The Alchemy of the Desert – Fourth Edition.