Essence Type: Individual Flower Essence
Flower Color: yellow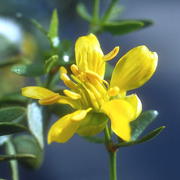 Flower Essence Description
Supports us in releasing what is unexpressed or held in which is usually at the root of self-imposed separation from others. It brings us a sense of being freed. Often used for resolving the feeling that something is missing in life.
Harmonizing Qualities
a magnificent cellular releasing essence, it helps release what is unexpressed or what has been held in
promotes a feeling of brightness and a sense of being freed
feeling totally connected to your inner source
emerging from a deeper, darker reality or a more unconscious state to a bright, energetic one
Patterns of Imbalance
intense inner desolation
feeling totally alone and cut off
loneliness
sadness
wistful bitterness
ancient feeling of being forever alone
for a person who encloses himself in his own magical world
something held in through nervous tenseness
self-imposed separation from others
How to use and related questions
Keywords
Creosote Bush is related to the following keywords:
• alienation • bright • desolation • source • loneliness • nervous • release • transformation • unconsciousness • unexpressed • barren • jealous • bitterness • pain • isolation • longing • belonging • connection • depression • excluded • cellular memory • held in
Articles
Creosote Bush is mentioned in the following core-issue articles:
withdrawal from others; feeling isolated or that no one understands them
for releasing old emotional wounds that have been unexpressed and have resulted in bitter feelings
ancient feeling of being forever alone; self-imposed isolation due to some bitter experience
Kits
Creosote Bush is part of the following series or practitioner kits:
This kit contains our full line of 119 individual flower essences, all of which are described in depth in The Alchemy of the Desert – Fourth Edition.

This kit is a set of 30 selected Desert Alchemy® flower essences that form an integral part of the healing program pioneered by Richard Utt, founder of the original International Institute of Applied Physiology in Tucson, Arizona.
More information
The above information is an excerpt of the book The Alchemy of the Desert - Fourth Edition by Cynthia Athina Kemp Scherer. Please refer to that book for in-depth information about this flower essence.