Essence Type: Individual Flower Essence
Flower Color: red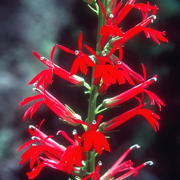 Flower Essence Description
This flower essence helps us to redirect sexual energy into other usable forms of energy. It is excellent during menopause, or for those who allow the fives senses to dictate their responses rather than mastering their bodies and senses.
Harmonizing Qualities
conscious usage and direction of life force energy rather than being pulled about by the five senses
good for menopause when the sexual energy is redirected from physical creation to other uses
mastery of the body and senses
transforming sexual energy into other usable types of energy
integrating sexual energy
Patterns of Imbalance
allowing the five senses to dictate your responses
feeling at the mercy of your sexual desires
How to use and related questions
Keywords
Cardinal Flower is related to the following keywords:
• sensuality • passion • sexuality • desires • menopause • self-control • puberty • self-discipline • self-restraint • longing • adolescence • overindulgence
Articles
Cardinal Flower is mentioned in the following core-issue articles:
What do I do with these impulses, whether they are about food, sex, or anything involving the five senses? How can I redirect them?
allowing the five senses and the desires they evoke to indiscriminately control your actions
desires created by the five senses dictate your actions
Kits
Cardinal Flower is part of the following series or practitioner kits:
This kit contains our full line of 119 individual flower essences, all of which are described in depth in The Alchemy of the Desert – Fourth Edition.
More information
The above information is an excerpt of the book The Alchemy of the Desert - Fourth Edition by Cynthia Athina Kemp Scherer. Please refer to that book for in-depth information about this flower essence.