Essence Type: Individual Flower Essence
Flower Color: white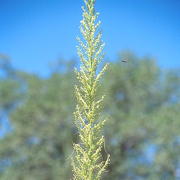 Flower Essence Description
Bear Grass fosters our knowing that no outside influence can overpower our deeply held intentions. It keeps us steadily centered in our hearts.
Harmonizing Qualities
steadily and deeply centered in heart energy
deep inner knowing that nothing outside can overpower or overtake your own deep intentions
being in touch with the quality of simplicity in any situation
Patterns of Imbalance
fear of aggressiveness or of someone else's intentions overpowering your own
fear that you are not really living from your heart center
How to use and related questions
Keywords
Bear Grass is related to the following keywords:
• aggression • centered • fear • heart • intention • overpowered • overwhelmed • simplicity • sensitive
Articles
Bear Grass is mentioned in the following core-issue articles:
If you are afraid that someone's intentions can overpower you. When you recognize your sensitive nature, you may fear that others won't. It is important to be able to say what you need as you relate to others who may not be as sensitive as you are. It supports you in coming from your heart as you deal with others' aggressive behavior.
Kits
Bear Grass is part of the following series or practitioner kits:
This kit contains our full line of 119 individual flower essences, all of which are described in depth in The Alchemy of the Desert – Fourth Edition.
More information
The above information is an excerpt of the book The Alchemy of the Desert - Fourth Edition by Cynthia Athina Kemp Scherer. Please refer to that book for in-depth information about this flower essence.