Spineless Prickly Pear Cactus Flower Essence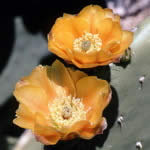 Essence Type: Individual Essence
Flower color: yellow/orange
Flower Essence Description
With Spineless Prickly Pear, we discover that all we need for survival is contained within us and that we don't need anything outside of us to Be. We find strength in vulnerability.
Harmonizing Qualities
feeling deep strength in vulnerability
fostering an extremely deep sense of power that knows its purpose
helps bring a great sense of "I AM"
knowing that "I don't need anything outside of myself to BE"
recognition that whatever IS at a given moment IS your existence
Patterns of Imbalance
fear of vulnerability
feeling a sense of lack or of needing something "else" so that you can handle life and life's situations
trying too hard at something
Keywords
career, compulsive, contentment, disappointed, discontent, fear, gratitude, home, I AM, incomplete, lack, needy, powerless, procrastination, purpose, receptive, rigidity, sensitive, strength, trying to, vulnerable
Articles that mention this flower essence
Kits
This flower essence is included in the following practitioner kits:
More information
The above information is an excerpt of the book The Alchemy of the Desert - Second Edition by Cynthia Athina Kemp Scherer. Please refer to that book for in-depth information about this flower essence.