Klein's Pencil Cholla Cactus Flower Essence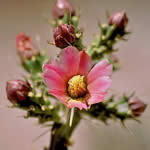 Essence Type: Individual Essence
Flower color: silvery pink
Flower Essence Description
This cactus essence encourages our creativity and growth in dealing with a relationship that feels stuck. It is excellent for when we stay in a relationship that is not supporting our growth in some way.
Harmonizing Qualities
becoming receptive to the forces that are familiar and gentle or trusted
excitement
gently unfolding to a process
growing outward
joy
resolution of our relationship to lust
resolution of our relationship to relationship
vitality
Patterns of Imbalance
being "stuck" in a relationship to someone or something but not wanting to leave
fear of becoming overwhelmed by some force larger than yourself
feeling "at the mercy" of your lust
focusing on aspects of a relationship that are not encouraging growth
hesitation, withdrawal or closing up
holding back emotionally in a relationship
holding yourself down in a situation or relationship
staying with a relationship that is holding you back emotionally
Keywords
abuse, clinging, connection, creativity, denial, domination, empowering others, empowerment, fear, guilt, holding back, individuate, intimacy, joy, lust, manipulation, non-attachment to relationships, obligated, overindulgence, overpowered, overwhelmed, relationship, resignation, resistance, resolution, stuck, unable, victim, vitality, withdrawal
Articles that mention this flower essence
Kits
This flower essence is included in the following practitioner kits:
More information
The above information is an excerpt of the book The Alchemy of the Desert - Second Edition by Cynthia Athina Kemp Scherer. Please refer to that book for in-depth information about this flower essence.